I came across http://mentimeter.com/ a couple of weeks ago from a facebook post.  It is one of those sites that allows you to poll people during a session or class. Unlike a lot of similar sites it does not require any subscriptions, annual plans and nor does it cost the price of a text to vote. I have wanted to include voting in my talks for a while but for the all the aforementioned reasons it could never be effectively done.  So simple it can work both for talks and in class (either online or face  to face). Simply go to the site, write your question and you get a unique URL.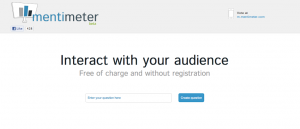 In this case I was about to do a talk related to Harry Potter so I asked people as they were coming into the room to vote. I displayed the url on the screen and told those that could to vote (some had computers, others had mobile devices)  Give the url to whoever you want to vote and voila. If you have a class mobile phoned students and free wifi – you have a free polling system.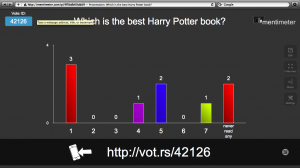 The added bonus is that the poll url stays active so you can go back to it. So feel free to go vote in this poll.  It could be used in class for a whole range of things and would definitely make for an interact vocabulary quiz.  Personally, I'm looking forward to trying it out at future talks and will certainly be making the most of it during the #eltchat symposium at IATEFL next week, when the poll can be used to garner the views of those online and in the room at the same time.